"Picture yourself relaxing in the warm, bubbling waters of your brand new hot tub. Sounds amazing, right? But before you can start soaking away your worries, it's important to make sure that the wiring for your hot tub is up to code and installed safely by a licensed electrical contractor. In this blog post, we'll take a closer look at everything you need to know about hot tub wiring and why it's essential to trust only the experts with such an important task. Let's dive in!"
What You Need to Know About Hot Tub Wiring
If you are considering installing a hot tub, there are a few things you need to know about hot tub wiring. First, you will need to have a dedicated circuit installed by a licensed electrical contractor. This circuit is commonly 50 amps and should have GFCI protection. Additionally, the hot tub should be wired to its own subpanel. The subpanel should be equipped with a double-pole circuit breaker and should be properly grounded. Finally, make sure that the area around the hot tub is well-ventilated to avoid any potential hazards.
The Different Types of Hot Tub Wiring
There are three different types of wiring that can be used for a hot tub: overhead wiring, direct burial wiring, and under-deck wiring.
Above-ground wiring is the most common type of hot tub wiring. It is installed above ground and runs along the outside of the house to the hot tub. This type of wiring is less expensive than underground or under-deck wiring, but it is more susceptible to damage from weather and animals.
Direct burial wiring is installed underground. This type of wiring is more expensive than above-ground wiring, but it is less likely to be damaged by weather or animals.
Under-deck wiring is installed beneath the decking material on your deck. This type of wiring is more expensive than overhead or direct burial wiring, but it provides a neat and tidy appearance.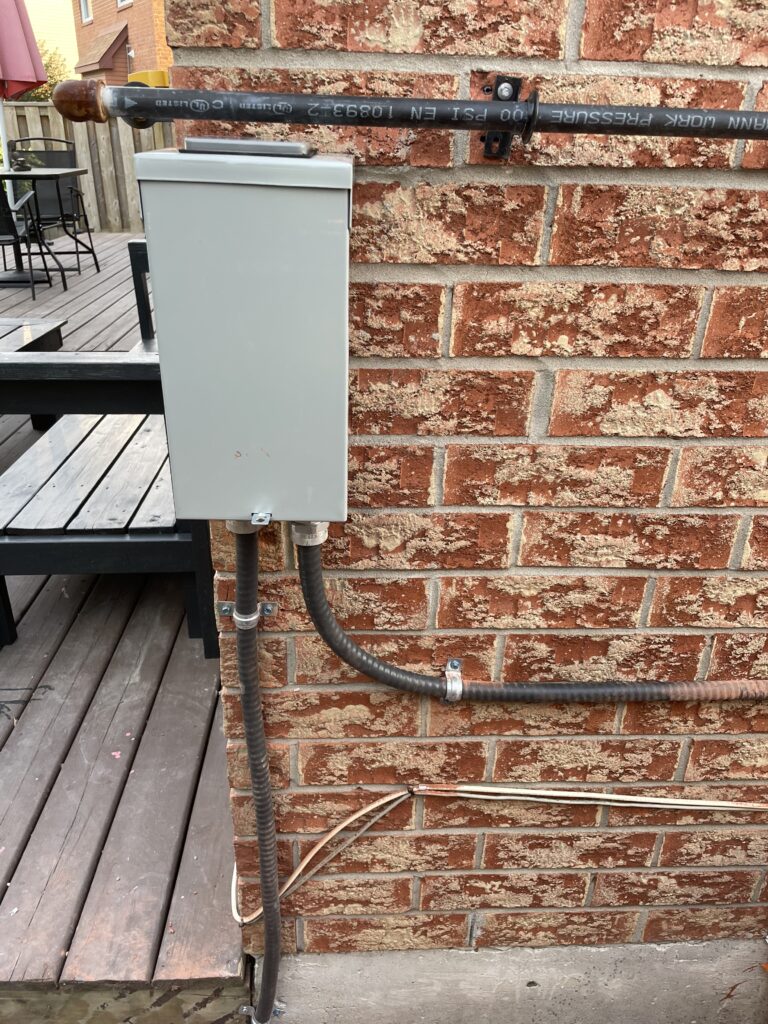 Tips for Hiring an Electrician for Your Hot Tub Wiring Project
If you are planning to install a hot tub in your home, it is important to hire a licensed electrician to handle the wiring. Here are some tips to help you find the right electrician for your project:
Check online reviews. There are many websites where you can read reviews of local businesses, including electricians. Be sure to read both positive and negative reviews to get a well-rounded idea of what others have experienced.
Ask for proof of licensing and insurance. Any reputable electrician will be happy t o provide you with proof that they are licensed and insured before starting work on your project.
Make sure you are clear about the scope of work. Before work begins, be sure that you understand exactly what the electrician will be doing and how much it will cost. There should not be any surprises once work gets underway.
How much does it cost to wire a hot tub?
The cost to wire a hot tub will vary depending on the type of wiring that is used, the location of the hot tub, and the size of the hot tub. In general, overhead wiring is the most expensive option, while under-deck wiring is the cheapest. If you are interested in installing a hot tub in your home, be sure to contact us for a free consultation. Prices usually start at around $800
Conclusion
Hot tub wiring is a job that requires safety and expertise, so it's best to hire a licensed electrical contractor for the job. Working with an experienced professional will help ensure your hot tub is properly wired and installed, helping you avoid potential hazards, such as electric shocks or fires. We have installed several hot tubs in our local area and can help you choose the best wiring option for your home. Contact us today to schedule a free consultation.